" Makes accessing the roof of any car big or small a breeze...it's genius! " ⭐️⭐️⭐️⭐️⭐️ - James
Tired of standing on your tiptoes or even your cat seat whenever you need to attach some gear to the rooftop of your car?
Reach the top of your car in less than 3 seconds with our "Lazy Leg Up" Car Door Pedal that can hold up to 400 lbs!
Why Our Clients Owning The "Lazy Leg Up" Car Door Pedal
Easily Load: kayaks, bikes, canoes, roof boxes, and more!
Safely And Easily Access: to the roof of an any car, big or small!
Wash Your Roof: No more struggling with washing your roof!
Tough And Durable: Heavy duty and built to last a lifetime.
Load Bearing: Suits any bodyweight up to 400 pounds (180kg)!
Doorframe-Safe: Soft rubber design that doesn't scratch the door.
Foldable: Stores away nicely in your glove compartment or door pocket.
Special Safety Hammer Design: Can be folded up and used as an escape tool, providing you with a powerful tool for survival in an emergency.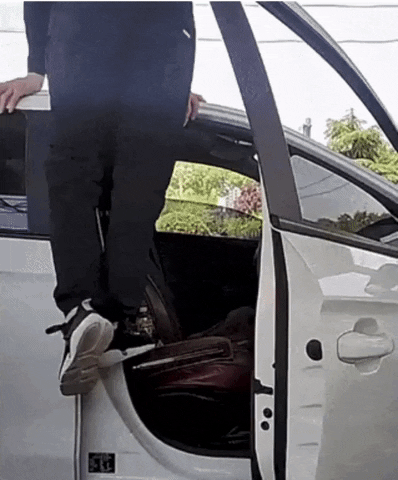 WHAT OUR CUSTOMERS SAY
" Good material, well packed. Perfect for vehicle access the ceiling high for both cleaners as to tie loads. Installed on my Land Cruiser. It's really handy! Thanks! "  ⭐️⭐️⭐️⭐️⭐️ - Oliver Carr
✅ Specifications:
     • Color: Black
     • Weight: 11.65oz (330g)
     • Material: Hard aluminium alloy
     • Product Size: 155mm x 76mm x 7mm
     • Load bearing: 400 pounds (180kgs)
✅ Your delivery includes:

     •  1 Car Door Pedal

     •  30 Days Money Back Guarantee 
✅ Our 30-Day Money Back Guarantee

We offer a risk-free 30-Day Money-Back Guarantee. Simply follow our Money-Back Guarantee Protocol to receive a full refund !

✅ 24/7 Customer Service

If you have any questions or problems with our products, you can send us an email at support@heresio.com. Our customer service will reply within 24 hours.
NOT AVAILABLE IN STORES
WE WILL SOON BE OUT OF STOCK. SECURE YOUR ORDER TODAY WITH 50% DISCOUNT!