" The Iron Rake is the best rake I've ever used! It's so easy to use and it makes gardening a breeze. I highly recommend this to anyone who wants an easy, efficient way to take care of their yard. " | Lila, USA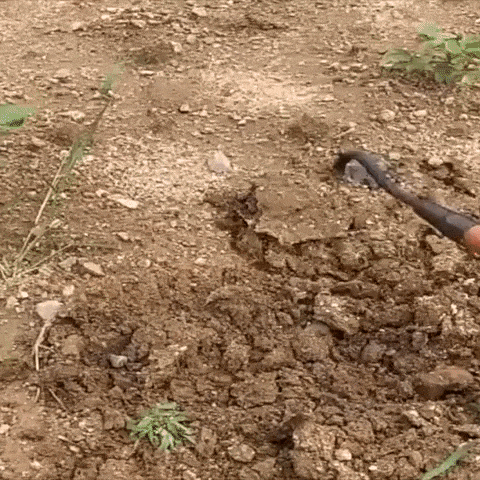 • Save time & labour: Make your life easier by minimising your time & effort in the garden
• Makes yard work easy: It's rugged and efficient and makes yard work a breeze
• Versatile: Use it for a variety of gardening tasks like weeding, soil loosening and general cleanup
• Durable: Equipped with ultra-sharp teeth and built using robust and high-carbon steel from top to bottom
No more backbreaking work to get your yard looking amazing!
Gardening shouldn't be made harder than it already is. And we know that your time is precious and shouldn't be wasted doing yard work with inefficient, sub-par tools.
Plus, a lot of us don't have the time to be gardening for hours on end. And that's why we created the Iron Rake!
No more backbreaking work to get your yard looking amazing! Designed to make your life easier by maximizing your efforts in the garden.
This tough rake is perfect for everything from household weeding and ditch maintenance to soil loosening and seeding. It's also great for just giving your garden a good clean-up.
One thing's for sure, the Iron Rake can handle whatever you throw at it. 
A heavy-duty rake that can handle any landscaping job

The iron rake is a heavy-duty weeding rake is perfect for tackling even the most stubborn weeds.
And for those really tough jobs, the Iron Rake has ultra-sharp teeth built with high carbon steel material that make quick work of even the toughest weeds.
Plus, the teeth stay sharper longer so you can get the job done right the first time.
So ditch the old rake and upgrade to the Iron Rake for a more efficient weeding experience.
 Why choose the Iron Rake?
It's made of high-quality materials for durability and longevity.
It's easy to use and perfect for a variety of gardening tasks
It's versatile and can be used by cotton growers, homeowners and landscapers
What makes the Iron Rake different?
                                                                                           Other Rakes
Requires less effort to maintain a beautiful yard         ✓              ✘

Eradicate stubborn weeds from the roots                    ✓             ✘
Cleans up yards and garden beds up to 5x faster       ✓             ✘
Ultra-sharp tines for an easier gardening experience ✓             ✘
Used for weeding, tilling, loosening soil & more          ✓             ✘
High carbon steel for durability and longevity             ✓             ✘
Specifications:
Material: steel
Sizes:      4tooth: 17x14CM
                5tooth: 21x14CM
                6tooth: 25x14CM
                7tooth: 29.5x14CM
Handle Diameter: 30MM
Your delivery includes:

     •  1 Heresio™ Iron Rake

     •  30 Days Money Back Guarantee 
Our 30-Day Money-Back Guarantee

We offer a risk-free 30-Day Money-Back Guarantee. Simply follow our Money-Back Guarantee Protocol to receive a full refund!

24/7 Customer Service

If you have any questions or problems with our products, you can send us an email at support@heresio.com. Our customer service will reply within 24 hours.
Ready to get your yard in shape? 
NOT AVAILABLE IN STORES