THE MOST POWERFUL TRIMMER HEAD ON THE PLANET THAT NEVER BREAKS, UNLIKE YOUR WIRE TRIMMER.
✔️ 100 TIMES MORE POWERFUL THAN TRADITIONAL STRING HEADS
✔️ CLEANS BETWEEN BRICKS, DRIVEWAYS, WHACKS WEEDS & MORE
✔️ LASTS FOR YEARS WITHOUT NEEDING REPLACEMENT
✔️ FITS YOUR EXISTING TRIMMER
CAN YOUR TRIMMER DO THIS?

THE INDESTRUCTIBLE TRIMMER IS TOUGH ON WEEDS, GRASS, MOSS, AND EVEN DIRT ON CONCRETE, SOFT GROUND, WOODEN & GRASSY AREAS OF YOUR GARDEN.
🔥Your drive, garden, and pathways will never have looked so good🔥
NO MORE ANNOYING BROKEN STRINGS YOU NEED TO CHANGE EVERY 10 MINUTES!

It's so annoying when your wire breaks and you have to stop what you're doing every 10 minutes to pull more out. It's frustrating and doubles the time it takes to get your job done. With the Indestructible Trimmer you'll never have to stop doing what you're doing and get your job done is a fraction of the time.

The big advantage here is not only will you get your work done better and faster, with much less headache and frustration. But you'll also SAVE money by not needing to replace your trimmer head for years!
360 DEGREE OF UNIQUE DESIGN
This trimmer head is made of twisted steel wires with 36 brush blades. It is specially designed for both simple quick and easy jobs, or for tough jobs that need turbo power injection. No job is too big or too difficult for the Indestructible Trimmer.
EASY ASSEMBLY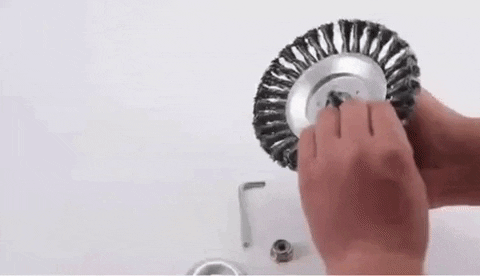 Assembly is quick and simple. It replaces your current string trimmer and lasts for years meaning less money spent and a cleaner, weed & dirt-free space.
CAUSES ZERO DAMAGE
The Indestructible Trimmer head is tough on weeds but gentle on the affected areas. This means you don't ever have to worry about damage or wear and tear wherever you use your trimmer.
FITS YOUR EXISTING TRIMMER, ELECTRIC OR GAS POWERED
Thanks to its universal design, it will fit most trimmer models, including Husqvarna, Greenworks, Black & Decker, Worx, Echo, Stihl and many more!
Specifications:
     •  Color: Silver
     •  Material: Steel Wheel
     •  Diameter: 6 inches
Your delivery includes:

     •  1 Heresio™ All-Steel Hardened Hollow Hoe

     •  30 Days Money Back Guarantee 
Our 30-Day Money Back Guarantee

We offer a risk-free 30-Day Money-Back Guarantee. Simply follow our Money-Back Guarantee Protocol to receive a full refund !

24/7 Customer Service

If you have any questions or problems with our products, you can send us an email at support@heresio.com. Our customer service will reply within 24 hours.
NOT AVAILABLE IN STORES